Update (September 10th, 2018): We have released the Wunderlist import tool that lets you import data from your Wunderlist account into Matterlist: tasks (with their ordering, stars, due dates and notes), recurring tasks, subtasks and lists. For more details, see Import from Wunderlist.
Seth Godin, the famous internet marketer who despises internet marketers, advises companies who are launching new products to "focus on the tiniest audience possible." So, what is the tiniest (but most fitting) audience for Matterlist? Who are the people that Matterlist is perfect for?
Take a look at this list — do you recognize yourself?
You're a current or former Wunderlist user
You're fed up with Wunderlist because of its clutter, irrelevance and due-date pollution
You use to-do applications primarily on mobile devices
You have a lot of recurring tasks
You use to-do applications solo, without a team
If you fit this description, get Matterlist now and never look back!

If you're still not sure you hit all these points, read on to find out if Matterlist can be a good Wunderlist alternative for you.
Similarities
Matterlist's approach to to-do lists is very similar to that of Wunderlist (and, earlier, Astrid.) Tasks have completion checkboxes and are grouped into Lists (e.g. Work, Home, Personal etc.) You can mark any task as Starred to highlight it in the list. Tapping a task opens a detail view where you can edit its priority, notes, due date and other fields. Left-swiping a task deletes it.

With the exception of the calendar-like Timeline above the task list, the overall look of Matterlist is instantly familiar to a Wunderlist user:
Matterlist: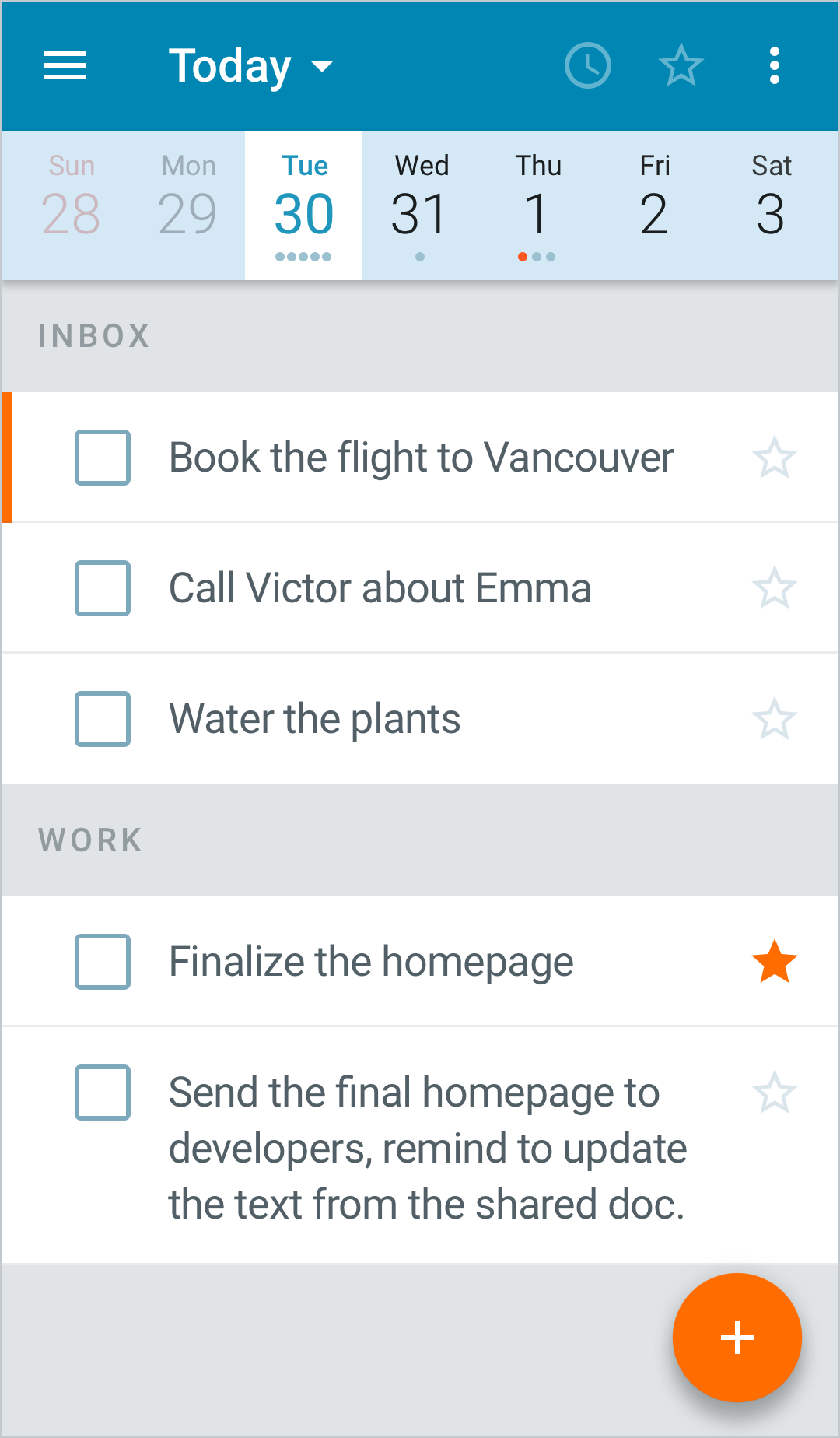 Wunderlist: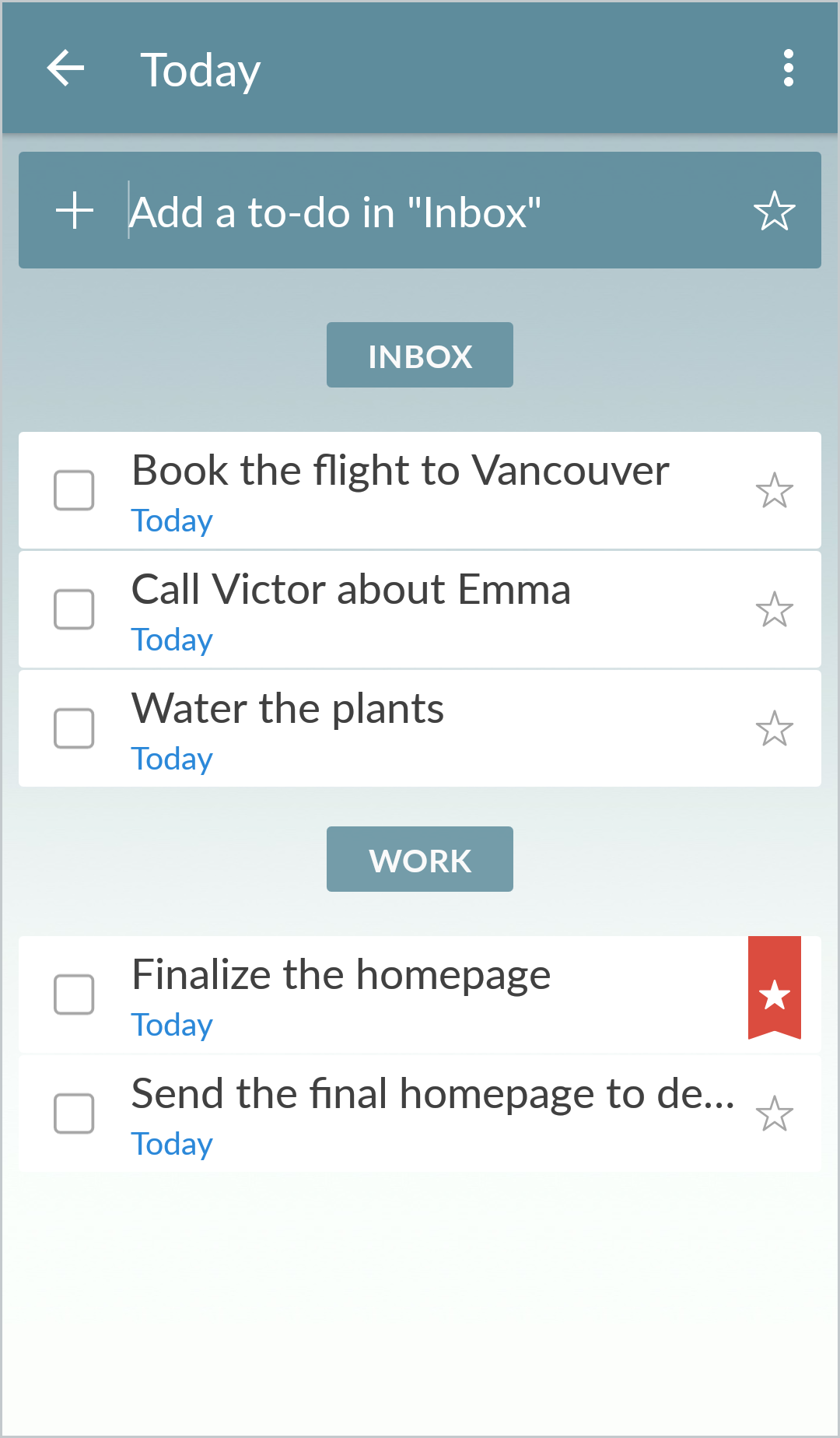 That's where the similarities end. Matterlist introduces several innovative ideas and approaches. At first, some of the improvements may be unfamiliar to Wunderlist users, but in the end they offer significant productivity gains. Read on to find out more.
Key Differences
Additions
Today shows all tasks, with or without dates.

In Wunderlist, the presence of a Due Date in a task defines where that task will be visible. Tasks with Due Dates show up in Today or Week views, while dateless tasks are only visible in Lists they belong to, or in All Tasks. By contrast, in Matterlist both dated and dateless tasks are shown in Today, and you left-swipe them to the days or hours they belong to. This makes it less likely for dateless task to remain unnoticed.

Recently Modified view.

This view has no equivalent in Wunderlist. It shows all tasks sorted by their last modification date — regardless of their List, visibility status or place in the subtask hierarchy. This view is great for finding lost tasks which you might have accidentally postponed to 2050 or hidden by assigning an inactive Context.

Customizable default list.

In Wunderlist, the default Inbox list is fixed — it's always present, it cannot be renamed, and it's always at the top. In contrast, the Matterlist Inbox is just a regular list that can be renamed or reordered. You can assign any list as the default.

Multiple priority levels, in addition to Stars.

In Wunderlist, there are no priority levels, just the binary stars: starred or not. By contrast, Matterlist offers four individually colored priority levels, in addition to the star.

Multiline to-do items.

In Wunderlist, to-do items are single-line — their text is truncated when it reaches the edge of the screen, which can be really annoying, especially on mobile devices. By contrast, Matterlist uses multiline to-do items that don't force you to truncate your tasks. To learn more, see Multiline To-Do Items.
Omissions
No shared lists.

Matterlist doesn't have shared lists or any other collaboration features, and they are not planned for the foreseeable future. Matterlist is purposely designed to be a personal, single-user app. Our primary goal is to nail personal task management, and after that we will consider adding collaboration features — but always in a way that doesn't compromise individual use.

No list folders.

Wunderlist allows single-level folders for organizing Lists. Matterlist doesn't currently offer the ability to put Lists into folders.

No file attachments.

Wunderlist supports file attachment, but Matterlist doesn't. File attachments make the most sense in the context of shared lists and collaboration. Since Matterlist doesn't have these features, attachments aren't implemented.

No Week view.

Matterlist has no Week view, because it doesn't work well with with other Matterlist features, such as separate Hide-Until / Due Dates and first-class subtasks. To compensate for this, Matterlist offers the Timeline which is always visible on the screen, allows you to jump directly to any day, and displays the number of tasks on any given day via dots.
Conclusion
Wunderlist will be shutting down sooner or later. If you're a Wunderlist user looking for alternatives, should you consider switching to Matterlist?
Pros:
Improved recurring tasks
Streamlined handling of dateless tasks
Better subtasks
Convenient calendar-like Timeline
Quick and convenient postpone
No due date pollution
Multiline to-dos
Multiple priority levels
Automatic contexts
Cons:
No shared lists
No list folders
No file attachments
No week view